To say that I used to be completely, utterly obsessed with The Strokes is a bit of an understatement. As a 16 year-old high school girl in 2002, once I heard "Hard To Explain" and "Last Nite", I never looked back.
I joined their official fan club. I went to as many of their concerts as I could. I posted on their music forum. I bought every single music magazine that featured articles on them. I devoted nearly every single blog post to them. I proudly wore their t-shirts. They were even the muses for my high school art assignments: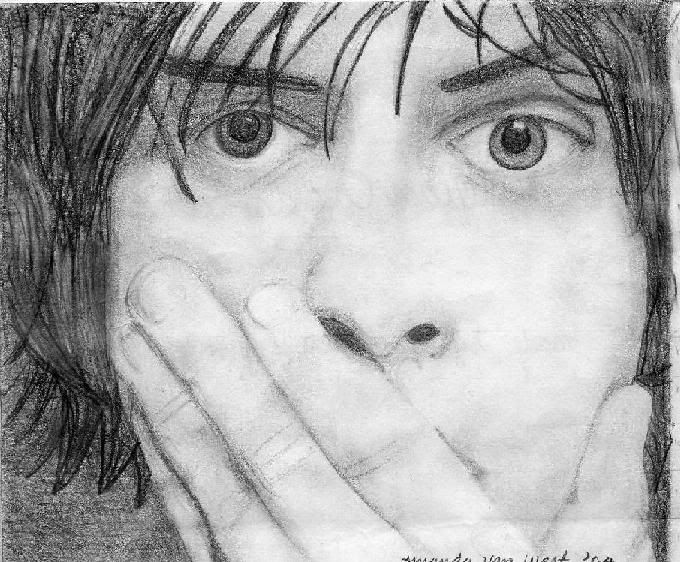 But, like many young bands on the scene, nothing is permanent. As I grew out of my teeny bopper Strokes-obsessed phase, the band produced two more albums, before pretty much disappearing over the last 5 years.
They never officially split up, but most of the band members were busy with side projects, and it seemed like The Strokes might not ever produce music together again.
Undercover Of Darkness
That is, until today. For the first time in 5 years, The Strokes have released a new song: "Undercover Of Darkness."
This is the first single off of their forthcoming album, Angles, which will be released on March 22nd.
While I was waiting for the song to download (it's available for free for the next 48 hours on their official website), all of those giddy, 16 year-old teeny bopper feelings came bubbling to the surface again.
Even upon listening to the first few notes of the song, and to Julian's distinct, yearning-yet-gritty voice, crooning away ambiguous lyrics, little goosebumps actually formed on my arms.
"Undercover Of Darkness" has the classic, Is This It?-era Strokes sound: upbeat, jangly guitars and a feeling that is simultaneously nostalgic and melancholic.
You know that feeling that you get when you meet someone new, but you feel like you've known them forever? Yet, you're still excited about what they're going to bring to your life, so you want to hang out with them as much as possible to soak up their awesomeness.
"Undercover Of Darkness" is like that new person, and my iTunes is getting a very hefty dose of it--repeatedly!
Hopefully the rest of Angles will live up to the expectations set by "Undercover Of Darkness." In the meantime, "I'll wait for you!"